PICTURED ABOVE IS The new chapter house sign, painted by the summer youth student workers of 2019. 
PHOTO CREDIT: DAMIEN AUGUSTINE
Ya'át'Ééh!  welcome to counselor chapter!
Welcome to the official website for Counselor Chapter! We are pleased that you visited our page today, please feel free to browse around and enjoy!
Counselor community was named after Jim Counselor, an early settler, and trader who opened the very first trading post in the year of 1930. The Trading Post still exists today, but in the years since it has been converted to Redmesa Trading. The community of Counselor is also just south of the historic Dinetah; one of the earliest Navajo settlements that dates back to the 1400s. Major highways nearby are Highway 550, located between Farmington and Albuquerque.
Here are a few awesome facts about our community:
Navajo Name: Bilagaana' Sneez

Domain Size: Around 70,771 Acres
*Chapter ANNOUNCEMENTS*

JANUARY 2023 CHAPTER MEETING DATES:
PLANNING MEETING – Monday, January 2, 2023 at 10:00AM via Teleconference
REGULAR MEETING – Sunday, January 9, 2023 at 1:00PM via Teleconference
VIA TELECONFERENCE
DIAL IN: 1-425-436-6391
ACCESS CODE: 2778691
-Agenda Requests can be made to daugustine@navajo-nsn.gov-

ATTENTION ALLOTTEES
PUBLIC NOTICE
What: Public Service Company of New Mexico ("PNM") plans to submit an application for right-of-way to the BIA, for the continued operation of PNM's existing overhead electric transmission line which runs across your land. PNM has engaged SelectROW to assist PNM with this process, including acquisition of your consent for the grant of this right of way.
Who: SelectROW requests that the individuals listed below, please contact the appropriate SelectROW Agent regarding the PNM renewal. If you have already contacted us or have sent in your consent forms, we thank you for your response and cooperation.
See link attached: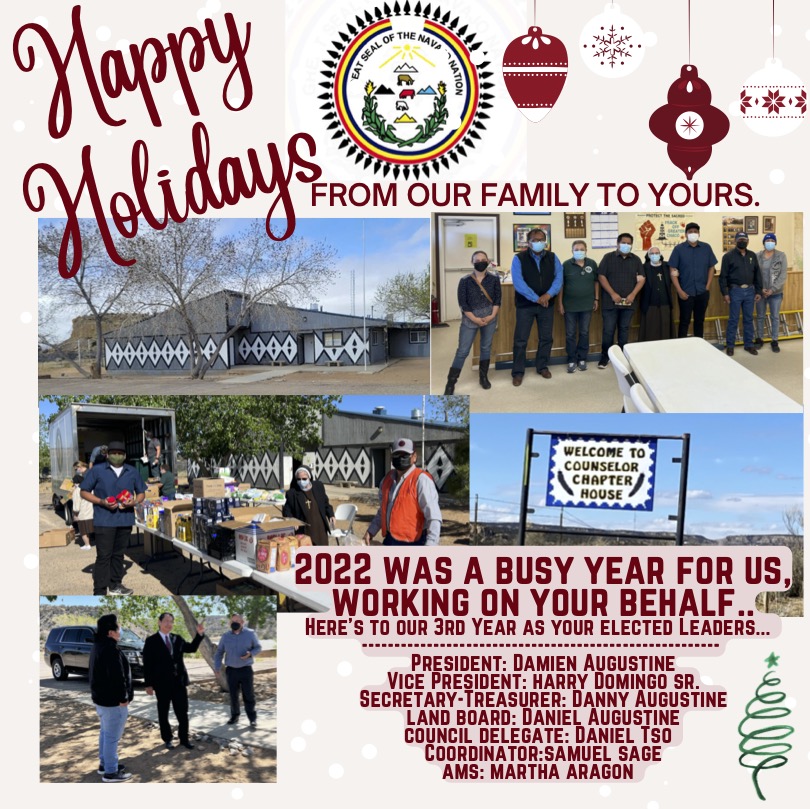 Chapter Officials
President:
Damien Augustine
Vice President:
Harry Domingo Sr.
Secretary/Treasurer:
Danny Augustine
Land Board Member:
Daniel Augustine
Council Delegate:
Daniel Tso
CHAPTER ADMINISTRATION
Coordinator: Samuel Sage
AMS: Martha Aragon